Shop and Residence
Statement of Significance
Nos. 121, 123-125 George Street, The Rocks, are of State and local heritage significance for their historic, aesthetic and scientific cultural values. The site and buildings are significant as part of the late 19th century development in this precinct and examples of the late Victorian shop and residence/ terrace type buildings in the local area. The change of use and works to the buildings represents the development of the area and its evolution into a commercial and tourist precinct. The group is a good and largely intact representative example of a late Victorian shops and residences and terrace type structures that retain their fundamental form, scale, character, fabric and Free Classical details and provide evidence of the building practices of the 1880s. Constructed in c. 1880 and 1882 by local business man and politician, Thomas Playfair, the buildings retain Free Classical detailing to the upper fa?ade and ground floor shopfronts which emphasise their original mixed use. The group is recognisable as they are in contrast, in terms of scale and style, to their immediate neighbours. The buildings make a positive contribution to the varied nature of this section of George Street. Together with the adjacent buildings they form a highly visible and identifiable group of commercial and former civic buildings which reinforces the historic character of The Rocks and this section of George Street. The buildings significantly continue to have a relationship with the rear yard. Bakehouse Place forms a prominent and visible element along the Nurse's Walk and recognises an early commercial use of the No. 121 which significantly retains part of the early oven. The commercial uses provide opportunity for interpretation and appreciation of the buildings and site. The buildings incorporate standard construction materials and techniques and building form and layout, and are relatively rare examples of small scale Victorian Free Classical buildings in The Rocks. However, there are a number of similar type buildings located in the City and the wider context. The site and buildings may retain archaeological resources that tell of past way of life and situation of the building occupants, however, it is considered that this would not reveal any information which would not be readily available elsewhere. The buildings are of some local social significance as commercial buildings which havehad continuous commercial use to the local and wider community for nearly 130 years.

View spatial data in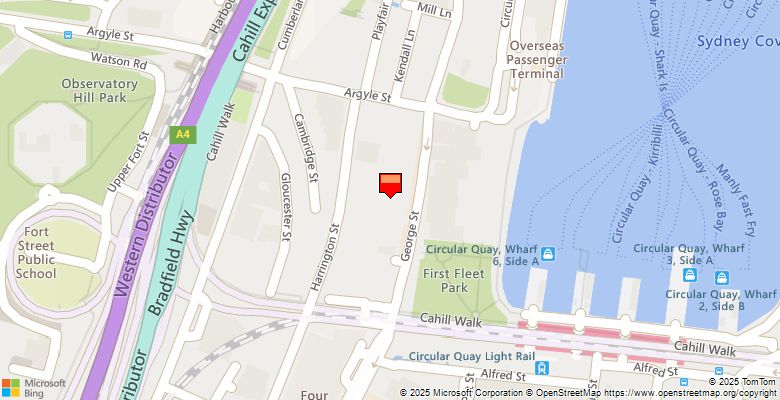 Description
Assessed significance: State

Item type: Built

Current use: Shops

Former use: Shops and residence

Group: Retail and Wholesale

Category: Shop

Designer/Maker:
Builder/Maker:
Construction Years: 1882 - 1882
Physical Description: Three late Victorian two storey shops, built c. 1880 of stuccoed brick. Unusual plainly moulded Romanesque style windows of three bays to the first floor. Two of the shops retain their original shopfronts, while the third has been altered. (National Trust 1977)No's 123 and 125 George Street are near-identical buildings, the timber shop front of 123 being new and a copy of 125 (original). No's 123 & 125 are connected internally and operate as one shop. The interior layout is original except for openings between rooms. Most ceilings are modern, original joinery generally remains. The decorative sheet metal parapet wall is a 'replica' (c1970s?) of the damaged original masonry parapet. No. 121 is an original shop front of a different type to 123 & 125Style: Victorian Free Classical; Storeys: 2; Facade: Brick & stone walls; Roof Cladding: Corrugated iron; Floor Frame: Timber
Property Description
| | | | |
| --- | --- | --- | --- |
| Lot/Volume Number | Section Number | Plan Folio Code | Plan Folio Number |
| 16/0 | | | 773812 |
Address
123-125 George Street, The Rocks 2000
LGA(s): Sydney
Historic Notes and Themes
Historical notes: William Davis's tenements extended across the land granted to him in 1836. His Town grant of 12 perches on October 29th, 1843 remained vacant except for houses to the rear of the property. Davis erected a shop to the George Street frontage of north corner of his 1836 Town grant in c1830. This brick walled and shingle roofed shop was added to in 1842 by a similar building to the northern side (extending into land grant of 1834) In 1845 the Sydney Municipal Rate Books described the two single storey shops as having two rooms and the northern premises boundaries being 13 feet wide and 68 feet deep (no. 123) and the other (No. 125) being 14 feet wide and 28 feet deep. Both shops were 'in bad repair'. The tenements to the rear of 123 were described in 1863 as 'old, ruinous and unhealthy'. Davis's will of 1843 gave J Edwards the title to property of the 1834 grant plus part of the 1836 grant. J Edwards conveyed the property to Henry Byrns in 1863. In 1870 W Hooper, a greengrocer occupied No.123 and T Barry, bootmaker occupied No.125. The shops continued as a greengrocer, J Paddon and a bootmaker, J McAuley, until September 1881 when they and the rear buildings were pulled down. Thomas Playfair purchased the properties from H Byrns and in 1882 erected two two-storey four roomed shops out of brick and stone walls and iron roof on the sites of No. 123 and 125. J Paddon continued as a fruiterer in the new shop No. 123 and C W Danielson, bootmaker in the other. Shop No. 125 became an outfitter and importer outlet in 1885. Thomas Playfair continued as landlord until the NSW Government resumed the property in 1900. (SCRA 1978: HP/07)Archaeology notes: Hospital (See also: AR038-039; AR045; AR057-058; AR061-067; AR069-070; AR073-074; AR078-079; AR084-085; AR126; AR129; AR131-132; AR149). Granted to William Davis (See also: AM015-016; AM020-023; AR069-070; AR111-112; AR122; AR143) as 12 perches on 29 October 1834.
Historical significance: Nos. 121, 123-125 George Street are historically significant as part of the late 19th century development in The Rocks. They remain as good and largely intact representative examples of a late Victorian shop and residence buildings located in The Rocks and particularly this section of George Street. Constructed in c. 1880 and 1882 by local business man and politician, Thomas Playfair, as speculative buildings, they were used as shops and residences for nearly 100 years when the use of the buildings shifted to commercial and retail uses which reflects the evolution of the area and development of The Rocks into a commercial and tourist precinct.
Historical association: The site is associated with William Davis who initially claimed the land and developed part of the combined sites for commercial and residential use. It is subsequently associated with his heirs and a number of local land owners and speculators including local businessman and one time Mayor of Sydney, Thomas Playfair, who constructed the buildings and other buildings in the local area. No. 121 has been used as sandwich shop/ refreshment room and caf? since the 1970s and been managed and has been associated with the same family and proprietors since the 1980s. Nos. 123-125 have been associated with prominent Australian artist, KenDone, and been used as a gallery and shop for Done merchandising since the late 1980s.
Aesthetic significance: The group is a good and largely intact representative example of a late Victorian shops and residences and terrace type structures that retain their fundamental form, scale, character, fabric and Free Classical details. The buildings make a positive contribution to the varied nature of this section of George Street. Together with the adjacent buildings they form a highly visible and identifiable group of commercial and former civic buildingswhich reinforces the historic character of The Rocks and this section of George Street.
Social significance: The buildings have been occupied by a number of individuals and businesses since their construction. No. 121 has been continuously used as a sandwich/ refreshment shop and caf? since the 1970s. Nos. 123-125 have also been used as a display gallery and shop since the late 1980s. These uses combined with outdoor seating and dining area, Bakehouse Place, have drawn many visitors to the buildings.
Research significance: Nos. 121, 123-125 George Street are largely intact despite replacement of building fabric such as roof claddings and timber work and internal finishes and remains as a good example of the standard late Victorian terrace type building and that retains its overall scale and internal layout that demonstrates the domestic standards and spatial qualities of a speculative shop and residence type building constructed in The Rocks, which is of Statesignificance is its own right, around the early 1880s. The buildings were constructed using standard building materials and techniques and do not have the ability to provide information that it not readily available elsewhere. Similarly the site may retain below ground resources which may indicate a way of life and situation of the building occupants. The rear has undergone some change and amalgamation of the area. The formation of Bakehouse Place and subsequent drainage works required some excavation and alteration of the rear ground levels with any potential resources likely to be disturbed. Any potential resources would not be unique or rare in the local area.
Rare assessment: Nos. 121, 123-125 George Street are representative examples of late Victorian small scale shop and residence/ terrace type buildings with Free Classical details. They differ to other speculative buildings constructed by Thomas Playfair in the area, as they originally incorporated a ground floor shop in addition to residence. There a number of late Victorian shop and residence buildings constructed in The Rocks, particularly in this section ofGeorge Street, however, these generally were constructed in the decades before or after the subject buildings and differ slightly stylistically and building form or fabric. As such the group are relatively rare in The Rocks, however, there are a number of similarly styled groups in the wider context in the City and suburbs such as Paddington, Surry Hills, Newtown and Glebe. The former bakery is a relatively rare surviving example of such a facility constructed in 1922 and evidence of a traditional skill. Although now partly removed, some of the peel back oven remains, including the iron doors, front wall to the oven and tools which allow the interpretation of an early traditional oven and bakery.
Representative assessment: Despite changes to the buildings and site, Nos. 121, 123-125 George Street retain their original form, scale and character and a sense of the internal layout and remains as an good example of a late Victorian shop and residence development in The Rocks.
Intact assessment: Archaeology partly disturbed.
Physical condition: Archaeology Assessment Condition: Partly disturbed. Assessment Basis: Floors level with George Street, terraced up to former level of Nurses Walk. Recent building techniques (Bakehouse Place).
| | | |
| --- | --- | --- |
| Australian Theme | NSW Theme | Local Theme |
| Developing local, regional and national economies | Activities relating to buying, selling and exchanging goods and services. | |
| Building settlements, towns and cities | Activities associated with the provision of accommodation, and particular types of accommodation ? does not include architectural styles ? use the theme of Creative Endeavour for such activities. | |
Listings
| | | | | | |
| --- | --- | --- | --- | --- | --- |
| Heritage Listing | Listing Title | Listing Number | Gazette Date | Gazette Number | Gazette Page |
| Register of the National Estate | 1/12/036/0384 | Terrace of three shops | 21/10/1980 | | 2186 |
| Register of the National Estate | 1/12/036/0380 | George Street Business Precinct | 21/10/1980 | | 2182 |
| National Trust of Australia Register | 10286 | | 04/04/1977 | | |
| Heritage Act - State Heritage Register | 01583 | | 10/05/2002 | 2868 | 85 |
| Heritage Act - s.170 NSW State agency heritage register | | Place Management NSW | | | |
| Within a National Trust conservation area | 10499 | | | | |
| National Trust of Australia Register | 7716 | | 27/02/1978 | | |
References
| | | | | |
| --- | --- | --- | --- | --- |
| Type | Author | Year | Title | |
| Written | | | Grants index. | |
| Management Plan | Perumal Murphey Alessi Pty Ltd | 2010 | 123 and 125 George Street, The Rocks, Conservation Management Plan | |
| Written | Maitland, Neil Colin | 1983 | George Street, The Rocks: A Streetscape Conservation Study | |
| Written | Croker A | 1977 | National Trust Classification Card - 121-125 George Street (Part of George Street Business Precinct) | |
| Written | SCRA | 1978 | Building Data Sheet HP/07 | |
IMAGES