Hunter River Steamship Navigation Company Office
Statement of Significance
The building has significance as it is associated with the development of transport systems in Australia especially the development of shipping. It is associated with the development of Darling Harbour as an industrial and transport hub. The building has historical significance for its association with early steam navigation and coastal shipping in Australia and Darling Harbour. The building is modest example of the Victorian Boom style in a navigation company office building, which makes an important contribution to the significance of the Sussex Street Group. The building interrupts the terrace of early Victorian warehouses, but shares similar details at street level. The centrepiece of the upper level is a Venetian window, which is repeated at the rear. The interior is notable for its panelling. The building is significant for its contribution to the streetscape. The building also forms part of the State Heritage Listing 00413 for numbers 135-153 Sussex St, former Warehouses.

View spatial data in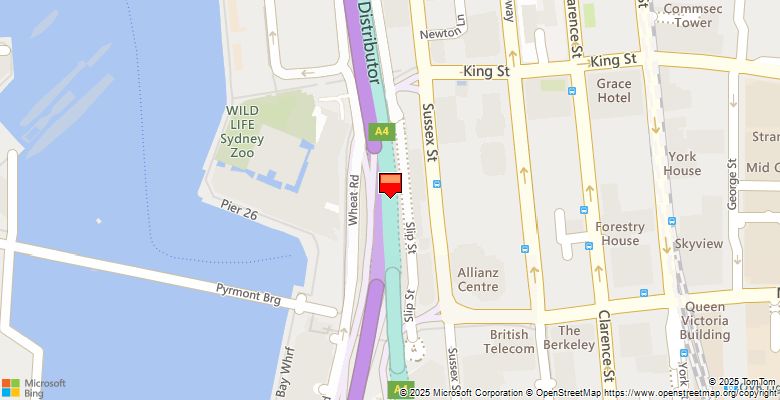 Description
Assessed significance: State

Item type: Built

Current use:

Former use:

Group: Transport - Water

Category: Other - Transport - Water

Designer/Maker:
Builder/Maker:
Construction Years: 1860 - 1860
Physical Description: A brick and sandstone building with a palace type facade in the Victorian Boom style. There are two storeys to Sussex Street and four storeys at the rear. The first floor has a venetian window at the front and rear and a Dutch type gable over the front. Some Federation style panelling is evident in the office interior, particularly on the counter and the staircase.
Property Description
| | | | |
| --- | --- | --- | --- |
| Lot/Volume Number | Section Number | Plan Folio Code | Plan Folio Number |
| 3/0 | | | 1237311 |
| 4/0 | | | 775101 |
| 5/0 | | | 775101 |
| 4/0 | | | 1237311 |
| 2/0 | | | 1237311 |
| 1/0 | | | 1237311 |
Address
Hotel Nikko Sussex Street, Darling Harbour 2000
LGA(s): Sydney
Historic Notes and Themes
Historical notes: The Hunter River Steamship Navigation Company was formed by John Earles in 1840. A wharf was purchased by the company at Darling Harbour in 1840 and a site in Margaret Street for their head office. Their first ship "Rose" arrived from England in 1841. In 1842 they began a service to Moreton Bay, were the only company running a steamship service between Sydney and Melbourne. In 1846 the company purchased property in Pyrmont for a workshop and maintenance activities. The company approved free or assisted passages for worthy causes, these included Caroline Chisholm going to Moreton Bay to obtain employment for immigrant women, Dr Leichhardt going to Moreton Bay for an expedition in Queensland, and they also shipped plants and specimens for the Botanic Gardens in Melbourne for free. Australasian Steam Navigation Company was formed from the Hunter River Steamship Navigation Company in 1851 to appeal to a wider market and expand their services. The Hunter River New Steamship Navigation Company had the entrance to their wharf at the subject property in 1862, at this time the front of the building appears to have been used for a range of shops. In 1883 the company built its office on the site, and in 1898 changed their name to the Newcastle and Hunter River Steamship Company. The building housed their offices and the entrance to their wharf, they shared the building for a short time with a brush factory. The building was remodelled in the 1890s and the entrance to their wharf and provedore department was moved two doors down. By 1904 they were advertising themselves as trading between Sydney, Newcastle, Morpeth, Raymond Terrace, Miller's Forest, Paterson and Clarencetown. They had added Bulahdelah and Port Stephens to their route by 1914, and by the 1920 were advertising that they had four lines on their telephone system, indicating a large well run company. They survived the depression of the 1930s but the advent of road and rail transport spelt their demise later in the 20th century.
Historical significance: The building has historical significance for its association with early steam navigation and coastal shipping in Australia and Darling Harbour.
Historical association: The building has significance as it is associated with the development of transport systems in Australia especially the development of shipping. It is associated with the development of Darling Harbour as an industrial and transport hub.
Aesthetic significance: The building has aesthetic significance as an example of Victorian Boom style architecture and its contribution to the Sussex Street group and streetscape.
Social significance:
Research significance:
Rare assessment:
Representative assessment:
Intact assessment: Exterior good and largely original
Physical condition: Built c 1860, remodelled c1890 and 1920. Redeveloped extensively c1985 into the Four Points Hotel.
| | | |
| --- | --- | --- |
| Australian Theme | NSW Theme | Local Theme |
| Developing local, regional and national economies | Activities associated with the moving of people and goods from one place to another, and systems for the provision of such movements. | |
Listings
| | | | | | |
| --- | --- | --- | --- | --- | --- |
| Heritage Listing | Listing Title | Listing Number | Gazette Date | Gazette Number | Gazette Page |
| National Trust of Australia Register | 6500 | | | | |
| Heritage Act - s.170 NSW State agency heritage register | | | | | |
| Register of the National Estate | 1/12/036/0145 | | 21/03/1978 | | |
| Heritage Act - State Heritage Register | 00413 | | | | |
References
| | | | | |
| --- | --- | --- | --- | --- |
| Type | Author | Year | Title | |
| Management Plan | Tanner Architects | 2009 | Conservation Management Plan | |
IMAGES