Unwins Stores
Statement of Significance
Unwin's Stores is of historical, cultural, social, scientific, archaeological and aesthetic significance to the history of The Rocks and of NSW generally. Unwin's Stores is of outstanding significance on a State level as a rare example of archetypal shop-houses of the pre-gold rush era. It makes an important contribution to the historical character of the George Street North precinct and provides evidence of commercial and maritime development in George Street, Sydney's first street and the centre of colonial activity for the greater part of the 19th century. The building is significant in its ability to illustrate the planning of Sydney's early commercial area, as well as the layout, design and methods of construction of typical commercial and residential accommodation of the period. Continuously occupied for smallscale commercial use from the time of their construction up to the present day, Unwin's Stores offers a valuable glimpse into the nature of business across a 145-year period. As much of the original building fabric survives and the building retains its essential architectural character, Unwin's Stores is of archaeological and aesthetic significance, offering an important material and visual resource for investigating and understanding the past. Unwin's Stores is also of its significance for its association with early Chinese migration to NSW, having housed a number of long-established and well-known Chinese businesses since the mid-19th century.

View spatial data in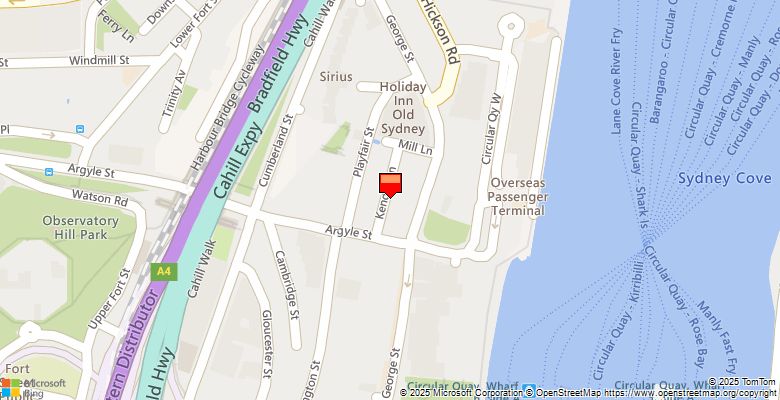 Description
Assessed significance: State

Item type: Built

Current use:

Former use:

Group: Retail and Wholesale

Category: Other - Retail & Wholesale

Designer/Maker:
Builder/Maker: Frederick Wright Unwin (built for)
Construction Years: 1843 - 1846
Physical Description: Unwin's Stores comprise a row of sandstone commercial buildings, originally with residences over, fronting George Street. These five sandstone buildings, originally built as shops and dwellings, were erected by Frederic Wright Unwin between 1843 and 1846. They were constructed during a depression in the Colony's economy, in the decade prior to the discovery of gold. Thus, their architectural style reflects not only the prevailing style, Colonial Georgian, but also the relative austerity of the area during this period. (See also: 4500096). Style: Georgian; Storeys: Three plus basement; Facade: Sandstone; Roof Cladding: Corrugated iron (Coachhouse [south section]: slate roof); Shingles (originally); Floor Frame: Timber (hardwood). Archaeology notes: Three storey sandstone warehouse and shops, 1844-1845. Part of the neighbouring warehouse, 1853-1854, on Kendall Lane. Vestiges of former buildings in courtyard, below level of Kendall Lane.; Built By: 1840's
Property Description
| | | | |
| --- | --- | --- | --- |
| Lot/Volume Number | Section Number | Plan Folio Code | Plan Folio Number |
| 3/0 | | | 790998 |
Address
Unwins Cottages,77 George Street, The Rocks 2000
LGA(s): Sydney
Historic Notes and Themes
Historical notes:
Historical significance: The site of Unwin's Stores is historically significant as a site continuously occupied since the earliest European occupation of Australia. The site has important associations with the earliest developments of the colony, as it formed part of Sydney's first convict hospital and gardens, and accommodated the Surgeon-General's residence prior to the construction of Unwin's Stores. As one of the chief commercial complexes in the George Street North precinct, Unwin's Stores is historically significant in the development of Sydney's foremost retail, commercial and maritime district in the 19th century. Unwin's Stores building is historically significant as material evidence of development in The Rocks in the pre-gold rush era. The history of occupancy of Unwin's Stores offers insight into the nature of business in the colonial and early twentieth century periods and as such is significant in providing evidence of change and continuity in retail and commerce. The occupancy of Unwin's Stores also reflects the wider history in European and Chinese migration in The Rocks and in NSW generally, as well as the history of working-class leisure and society in their use as boarding houses and hotels. Further, the history of the conservation of Unwin's Stores since the 1970s is significant in providing evidence of contemporary conservation ethics and ideas.
Historical association: Unwin's Stores is historically associated with several figures of prominence in business and commercial circles of 19th century Sydney, most notably with Frederick Wright Unwin, a solicitor and businessman who is otherwise only remembered in the names of Unwin's Bridge and Unwin's Bridge Road in Tempe, Sydney. However, at the time it was built, Unwin's Stores was among a number of comparable speculative developmentsundertaken by Unwin in The Rocks and his association with it is therefore of little particular significance. Similarly unremarkable is the site's association with previous landholdersJohn Piper, Mary Reibey and Frederick Garling. The site is also associated with other figures of social importance, including physician rederick Mackellar and his son Charles Kinnaird Mackellar, physician, politician andbusinessman, as well as with prominent Chinese merchants and businesspeople including the managers of Tin War & Co and King Nam Jang & Co. Unwin's Stores has a strong historical association with the Chinese community in Sydney who occupied and ran businesses there since the 1860s, sometimes for more than twenty years. Certain of the Chinese businesses at Unwin's Stores operated as unofficial halfway houses for newly arrived Chinese migrants, providing them with work and temporary lodging until they were settled. In addition, Chinese businesses operating from Unwin's Stores served the particular demands of Sydney's Chinese customers, as well as those of the wider community.
Aesthetic significance: As a terrace of purpose-built shop-houses, Unwin's Stores has aesthetic significance for the form and design detail of the tenements, particularly the shopfront joinery of Nos. 81-85, which is quite stylish for 1840s construction, and the carved wooden brackets on the shopfronts, which constitute a rare example of architectural carving. Unwin's Stores is also significant for the aesthetic and architectural interest afforded by its sandstone construction, double scale, overall plainness reflecting its Georgian origin, and medium-to-high level of intactness, as well as their aesthetic contribution to the streetscape, particularly when viewed from the eastern side of Circular Quay.
Social significance: Unwin's Stores is socially significant for its long history and for its contribution to The Rocks area, Australia's premier heritage precinct, as evidenced by its inclusion on a number of lists of buildings of heritage significance formulated by community groups such as the National Trust of Australia (NSW), and representative bodies such as the City of Sydney Council and the Heritage Council of NSW. As part of The Rocks area, Unwin's Stores is likely to be held in some esteem by the individuals and groups who are interested in Sydney's history and heritage.
Research significance: The site of Unwin's Stores is significant in its ability to provide material evidence of European settlement, including land tenure, subdivision, urban planning and land use in pre-1850s Sydney. Results of previous archaeological investigations of the site are fully documented and form a valuable resource for understanding early habits of life and work in The Rocks area. As the original design and planning of Unwin's Stores is relatively intact, it provides a resource for understanding spatial planning and room layout, as well as building practices, materials and detailing, in a 19th century residential and commercial tenement. However, 1970sredevelopment of the areas to the back of the buildings has to some extent destroyed evidence of historical use of this part of the site. Unwin's Stores meets this criterion on local level.
Rare assessment: The tenements at Unwin's Stores complex are among a small number of comparable buildings surviving in NSW and as such constitute a rare set of substantial city tenements once common in pre-gold rush Sydney. Unwin's Stores is thus rare in their ability to demonstrate the design of a mixed residential and commercial development dating from the 1840s and to provide insight into inner-city working class life in the 19th century. Unwin's Stores meets this criterion on State level.
Representative assessment: Unwin's Stores constitute an archetypal example of inner-city shop-houses and demonstrate the standard characteristics of a type of accommodation commonly occupied by working classes in the 19th century. Unwin's Stores is among few surviving buildings of its kind in NSW, and is important in demonstrating the 19th century streetscape of the George Street North precinct. Unwin's Stores meets this criterion on State level.
Intact assessment: Archaeology partly disturbed.
Physical condition: Archaeology Assessment Condition: Partly disturbed. Assessment Basis: Basements under building on George Street. Level of courtyard below Kendall Lane, but surviving vestiges of former buildings. Although not a comprehensive archaeological excavation, the monitoring identified the site as having a high archaeological potential; particularly in the form of rubbish pits in the rear yards. Refurbishment works in the Coach House required a watching brief for ground disturbance. The Excavation Director was Damaris Bairstow. Simultaneously Carl Doring was commissioned to conduct an industrial archaeological study of the machinery still in situ. Investigation: Archaeological Excavation, Industrial Study. Archaeology Assessment Condition: Partly disturbed. Assessment Basis: Basements under buildings on George Street. Investigation: Watching brief.
Listings
| | | | | | |
| --- | --- | --- | --- | --- | --- |
| Heritage Listing | Listing Title | Listing Number | Gazette Date | Gazette Number | Gazette Page |
| Heritage Act - s.170 NSW State agency heritage register | 01613 | | 10/05/2002 | | |
| Register of the National Estate - Interim | 1/12/036/0333 | | 21/03/1978 | | |
| National Trust of Australia Register | 7714 | | 05/04/1976 | | |
| Register of the National Estate | 1/12/036/0331 | | 21/03/1978 | | |
| National Trust of Australia Register | 10632 | | 05/04/1976 | | |
References
| | | | | |
| --- | --- | --- | --- | --- |
| Type | Author | Year | Title | |
| Management Plan | Clive Lucas Stapelton & Partners | 2008 | CMP | |
IMAGES