Cannon
Statement of Significance
The cannon are part of the armament installed to protect Sydney in the 1850s. Along with those at Fort Denison they represent the only remaining in situ armaments of the extensive harbour fortification system originally consisting of Dawes Point, Kirribilli and Mrs Macquarie's Point Batteries, and Forts Denison and Macquarie. Other cannon of smaller calibre from Dawes Point Battery are believed to be currently at Fort Denison and Bare Island. Six and 12-pounder cannon from the period 1788-1818 are also believed to exist at Cockatoo and Garden Islands which are probably provenanced to Dawes Point in the period before 1857. The 42-pounder cannon at Dawes Point are therefore a subset of the former armament of the site throughout its history as a defensive position. Technologically they are indicative of the final phase of artillery developments in the mid-19th century employing the projection of cannon balls, they are 42 Pounder Smooth-bore guns, manufactured just prior to the introduction of exploding shells. The cannon display adaptation for the insertion of friction tubes another technological innovation of the mid-19th century. The cannon are an integral part of the site as a defensive installation from 1791-1925.

View spatial data in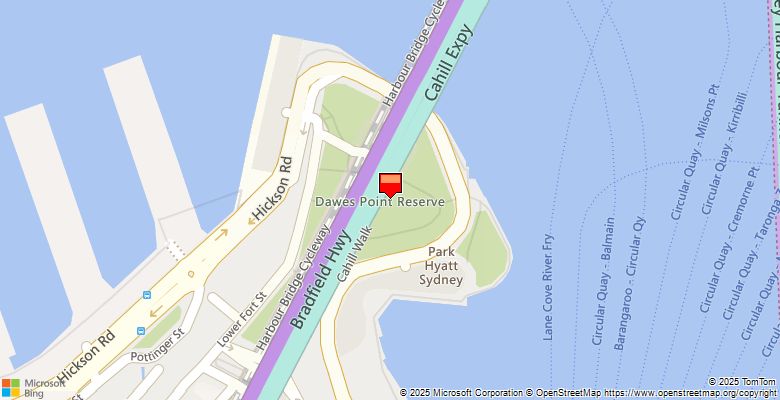 Description
Assessed significance: Local

Item type: Movable / Collection

Current use: Recreation

Former use: Artillery

Group: Defence

Category: Gun Emplacement

Designer/Maker:
Builder/Maker: Walker Armaments
Construction Years: 1843 - 1845
Physical Description: The five 42 Pounder Smooth-bore guns, c1850 cannon from the Dawes Point Battery are positioned in Dawes Point Park. Four of the gun barrels are in gravel plots in the approximate position of the outer ring of guns at the Battery. One is on a replica of the gun carriage positioned on the original emplacement sited into the Harbour.
Property Description
| | | | |
| --- | --- | --- | --- |
| Lot/Volume Number | Section Number | Plan Folio Code | Plan Folio Number |
| 100/0 | | | 1091792 |
| 101/0 | | | 1091792 |
Address
Dawes Point Park, The Rocks 2000
LGA(s): Sydney
Historic Notes and Themes
Historical notes: The five 42 Pounder Smooth-bore guns, are the only armaments of the former Battery currently on site. They were cast at the Walker armaments foundry at Tipton in England, one bearing the date 1843 and the other four 1844. The cannon were installed in the semi-circular (upper) battery as part of Major Barney's works from 1855-1859, in response to the Crimean War threat. The five 42-pound cannon were probably installed in 1857. Their teak carriages bear the date 1856, however that is a manufacture date and it is known that they had not arrived by the time of Denison's report to the Executive Council in November 1856. Circular tracks for each was set into the bedrock in order to swivel each cannon about a 180o angle. The gun carriages were centred on a pivot, unlike the majority of cannon installed at this time at Fort Macquarie, Fort Denison, Mrs Macquarie's Point and Kirribilli, which moved on a pivot located at the front of each carriage.
Historical significance: Association with Dawes Point Battery - a major element in Sydney Harbour defences in the 19th century. Made for the defence of the colony during the Crimean War. Recognised as part of some of Sydney's first defences.
Historical association:
Aesthetic significance: The cannon are located in Dawes Point Park which is an integral part of Sydney Cove and the setting of the Opera House and the Harbour Bridge.
Social significance: Recognised by many Australians as part of The Rocks and therefore first settlement. Increased appreciation for history and heritage.
Research significance: The cannon have been modified, the wick holes decreased in diameter to facilitate the insertion of friction tubes. They are some of the last smooth-bore guns manufactured just prior to the introduction of exploding shells. The cannon are manufactured at a time of changing gun technology and thus hold significant research potential into changing warfare and armaments.
Rare assessment:
Representative assessment:
Intact assessment: Cannon barrels intact, one remounted in original position. Historic, aesthetic, social and technical values are retained.
Physical condition: The cannon barrels are in good condition. The original teak carriages are in need of conservation and have been placed in storage. They carriages are not to be reinstated.
| | | |
| --- | --- | --- |
| Australian Theme | NSW Theme | Local Theme |
| Governing | Activities associated with defending places from hostile takeover and occupation. | |
| Governing | Activities associated with the governance of local areas, regions, the State and the nation, and the administration of public programs - includes both principled and corrupt activities. | |
Listings
| | | | | | |
| --- | --- | --- | --- | --- | --- |
| Heritage Listing | Listing Title | Listing Number | Gazette Date | Gazette Number | Gazette Page |
| Heritage Act - s.170 NSW State agency heritage register | | Place Management NSW | | | |
References
| | | | | |
| --- | --- | --- | --- | --- |
| Type | Author | Year | Title | |
| Written | Anne Cummings | 2000 | CONSERVATION TREATMENT REPORT On Five 42 Pounder Cannon at Dawes Point Battery | |
| | Wayne Johnson | 1999 | Dawes Point Archaeology Draft 1999 | |
| Written | CONYBEARE MORRISON | 2005 | DAWES POINT TAR RA CONSERVATION MANAGEMENT PLAN | |
| | SHFA | 1999 | Dawes Point Conservation Management Plan Final Draft Oct. 1999 | |
IMAGES