Four Former Stone Terraces - Archaeology
Statement of Significance
The site of the four former stone terraces has archaeological potential. The research value of the site lies in the potential of the archaeological resource to provide knowledge of the early land use of the site.

View spatial data in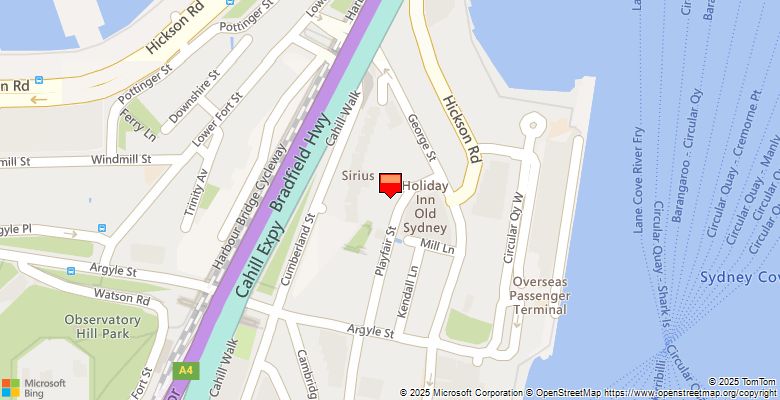 Description
Assessed significance: Local

Item type: Archaeological-Terrestrial

Current use: Public Space

Former use: Residential

Group: Residential buildings (private)

Category: Terrace

Designer/Maker:
Builder/Maker:
Construction Years: 0 - 0
Physical Description: Built By: 1850s demolished 1930s, site has been paved but not built upon.
Property Description
| | | | |
| --- | --- | --- | --- |
| Lot/Volume Number | Section Number | Plan Folio Code | Plan Folio Number |
| 6/0 | | | 258607 |
Address
9-15 Atherden Street, The Rocks 2000
LGA(s): Sydney
Historic Notes and Themes
Historical notes: Terrace houses constructed by 1850s, demolished 1930s. Site has been paved and is now pedestrian thoroughfare. It has not been built upon, leaving a potential archaeological resource.
Historical significance:
Historical association:
Aesthetic significance:
Social significance:
Research significance: The site of the four former stone terraces has archaeological potential. The research value of the site lies in the potential of the archaeological resource to provide knowledge of the early landuse of the site.
Rare assessment:
Representative assessment:
Intact assessment: Archaeological potential of the site is high
Physical condition: Assessment Condition: Partly disturbed Assessment Basis: Demolished in 1930s to continue what is now Playfair St through to Atherden. No subsequent site development. High archaeological potential.
| | | |
| --- | --- | --- |
| Australian Theme | NSW Theme | Local Theme |
| Building settlements, towns and cities | Activities associated with the provision of accommodation, and particular types of accommodation ? does not include architectural styles ? use the theme of Creative Endeavour for such activities. | |
Listings
| | | | | | |
| --- | --- | --- | --- | --- | --- |
| Heritage Listing | Listing Title | Listing Number | Gazette Date | Gazette Number | Gazette Page |
| Heritage Act - s.170 NSW State agency heritage register | | Place Management NSW | | | |
References
| | | | | |
| --- | --- | --- | --- | --- |
| Type | Author | Year | Title | |
| Management Plan | | | Information supplied by Wayne Johnson, SCA | |
IMAGES
Click to Enlarge